Where to Buy Beekeeping Suits
The bee suit is a super important part of beekeeping. It's the thing that keeps beekeepers safe from bee stings. While some beekeepers prefer to tend to their hives without protective gear, it really depends on the temperament of the bees.
Most beekeepers should wear a beekeeping suit, veil, and protective gloves when around their beehives. New beekeepers often wonder where to buy beekeeping suits? It's not something that is usually sold in stores. The best way to get a bee suit is to order one online.
Types of Beekeeping Suits
Beekeeping Jacket
Also called a beekeeping smock, this type of bee suit provides protection only to your upper body. Typically, beekeepers will wear a pair of thick jeans to protect their legs.
While bee jackets don't offer as much protection as a full body bee suit, they are comfortable and easy to put on. It's good to use a bee jacket for less invasive tasks, such as refilling feeders.
Bees & Co K73 Natural Cotton Beekeeper Jacket with Round Veil
Beekeeping jacket natural cotton with removable round veil

Elasticated waistband and elasticated cuffs, plus elastic thumb loops to keep everything comfortably in place

Three pockets, self-fastening flaps and embroidered logo

Unisex bee jacket design for men and women

Heavy duty zippers, durable double-stitched pockets, and two year warranty
Poly Cotton Bee Suit
Basic beekeeping suits are made of a blend of polyester and cotton. Typically a ratio of 65/35% or 50/50% poly cotton blend is used. This material is not as thick as the 3 layer ventilated bee suit, but it still does a good job of preventing most bee stings.
Poly cotton bee suits tend to be durable, non flammable, and strong. Overall, it's a great standard protective beekeeping suit. They cost less than ventilated bee suits and are usually machine washable.
Humble Bee 410 Polycotton Beekeeping Suit with Round Veil
Polycotton beekeeper suit with self-supporting round veil, heavy duty brass zippers, durable double-stitched pockets, and deluxe canvas carrying case

Medium-weight 50% cotton / 50% synthetic blend (280 gsm) provides outstanding protection against bee stings, plus all-day comfort in most weather conditions

Tailored fit with an elastic waist, elastic wrists, and elastic ankles, plus thumb and foot holds to keep everything comfortably in place

Unisex design for men and women
Ventilated Bee Suit
Ventilated bee suits are basically the top of the line. Not only do they offer superior protection against bee stings, they are also lightweight and breathable.
These suits are constructed of 3 layers of mesh fabric which creates a 5 mm gap between the wearer and the bees. That means that this suit is practically sting proof, since a bee's stinger is 3 mm long.
The fabric used in ventilated bee suits is breathable mesh, which really helps with comfort on hot days. In fact, if you live in a warm climate, a ventilated bee suit is a must.
Kids Beekeeping Suit
I think it's really great that more kids are getting involved in beekeeping. And because of that, more kids beekeeping suits have been available lately. Kids bee suits are exactly the same as adult bee suits, but in a smaller size.
Where to Buy Beekeeping Suits
If you are looking for where to buy beekeeping suits, your best bet is to purchase one from a trusted online retailer.
Amazon
Not surprisingly, Amazon has a large variety of beekeeping suits for sale. So much so, that it can be hard to know which suits are any good. Check the reviews and product images before purchasing a suit, or stick to trusted brands.
Some brands I like are Vivo, Ultra Breeze, Humble Bee, and Natural Apiary. Benefits of buying from Amazon are free shipping with Prime membership and easy returns.
Natural Apiary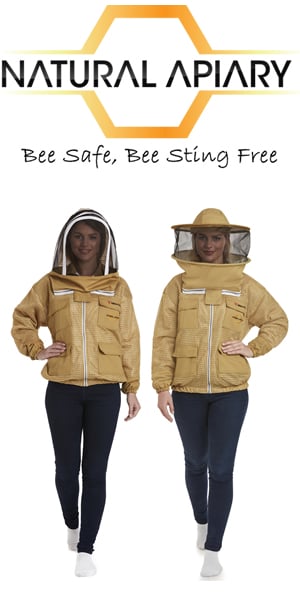 I like the beekeeping suits at Natural Apiary because they are high quality and last a long time. Natural Apiary sells a selection of beekeeping jackets, poly cotton bee suits, 100% cotton bee suits, ventilated beekeeping suits, and more.
Many of their beekeeping suits also come with two different veils – round and fencing. The veils are designed to be protective, have maximum visibility, and reduce sun glare. I also like that the veils are fire resistant, which makes me feel safer when using a smoker.
Natural Apiary's best selling bee suit is their 3 Layer Ventilated Bee Suit. Because of the 5mm gap created by the 3 fabric layers, you are fully protected from bee stings.
The 3 layers of mesh are really lightweight and breathable, which makes wearing it much more comfortable than other suits. Ventilated bee suits cost more than cotton and poly cotton suits, but it's really worth it for me because I live in a hot and humid area.
Natural Apiary ships products ordered from their website through Amazon, so you get the advantage of Amazon's fast shipping.

What to Look for in a Bee Suit
When buying a bee suit, you want to look for the following:
Allows you to move and work comfortably
Easy to put on and take of
Prevents bees from stinging you
Elastic at wrists and ankles to prevent bees from getting into suit
Keeps you cool in warm climates
Heavy duty zippers
Veil attaches to suit
Summary
If you are looking for where to buy beekeeping suits, you should look online. Beekeeping suits can be purchased online from trusted retailers, such as Amazon or Natural Apiary. The 3 types of bee suits are the jacket, cotton or poly cotton, and ventilated.